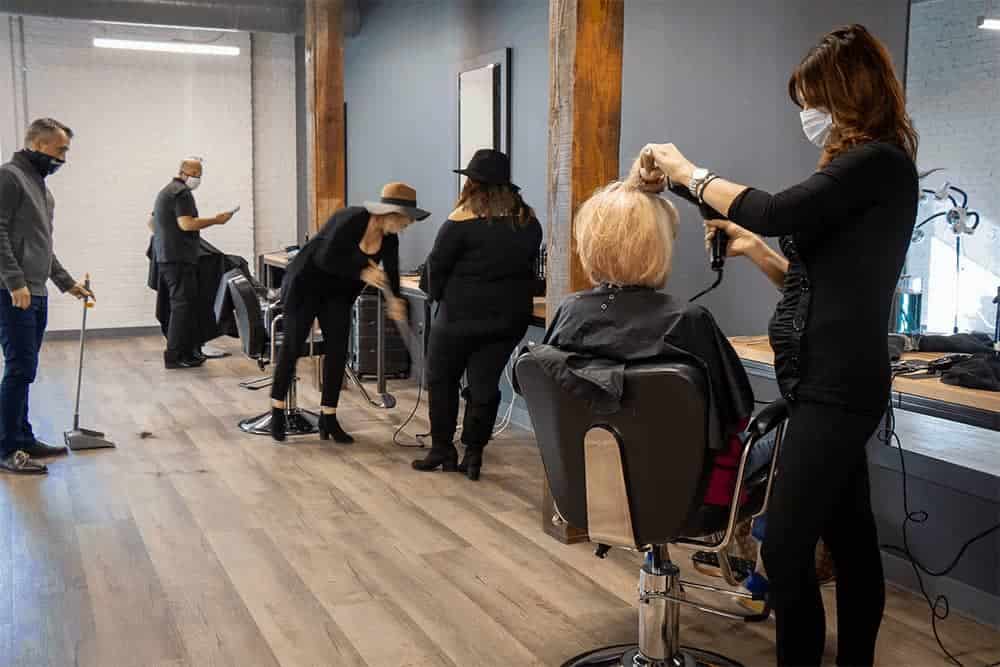 Who Is TRIM NuLu?
TRIM NuLu is Louisville, Kentucky's premier high-end hair salon nestled in the heart of NuLu. Experience the artistry of radiant hair highlights, flawless color correction, balayage, hand-tied hair extensions, and artistic haircuts – at our full-service salon, we're dedicated to elevating your beauty journey.
Located in downtown Louisville, our experienced high-end stylists and colorists are committed to making our clients feel beautiful by providing top-quality hair services that enhance their natural beauty. Our stylists care about building long-lasting relationships with our guests by providing personalized consultations, attentive service, and exceptional customer care. When you walk into our hair salon, you are the only thing that matters.
Voted Best Hair Salon in Louisville, KY
Named Best Hair Salon in Louisville, KY in 2021, 2022 & 2023 by the Louisville Courier-Journal, TRIM NuLu stylists have also received numerous awards. Best Hair Highlights, Best Hair Extension Technician, Best Blowouts, Best Men's Haircuts, and Best Women's Haircuts, just to name a few.
Aside from awards, TRIM NuLu has also attained the highest elite status from Redken. When you book your hair appointment with us, you're booking a high-end hair salon experience with very skilled stylists. We take great pride in our work and the amazing hair transformations that we are able to provide. We are conveniently located in downtown Louisville, KY and offer online booking and online rescheduling!
Who Are Our Hair Salon Guests?
Our guests come from every walk of life. Moms, dads, professionals, college students, men, women, kids, and everyone in between. We are an open and inviting environment where people can come to us for a quick haircut, a routine color touch up, or a major hair transformation. Everyone is welcome and we take pride that making sure that every single person feels welcome. Our salon was built with you in mind, no matter who you are.
Whether it's a haircut, natural beaded row/hand-tied hair extensions, hair coloring, hair color correction, hair highlights, color touchups, blowouts, balayage, or just a simple style, we have you covered.
TRIM NuLu Hair Salon Services
Haircut Services
Haircuts, Shampoo, & Styling
Women's Cuts
Men's Cuts
Kid's Cuts
Bang Trims
Hair Coloring
Full Highlights
Partial Highlights
Full Hair Color
Bleach and Tone
Color Correction
Color Touchup
Root Touchup
Balayage
Ombre
Hand Tied Hair Extensions
Hand Tied Hair Extensions Sales
Hand Tied Hair Extensions Installation
Hand-Tied Hair Extensions Removal
Hand-Tied Hair Extensions Move Up
Special Hair Salon Services
Updo
Special Occasion
Hair Styling
Lip Waxing
Chin Waxing
Eyebrow Waxing
Why was TRIM NuLu named the Best Hair Salon in Louisville KY?
Custom Hair Recommendations

Our stylists are experienced professionals with knowledge about various face shapes, hair types, and hair styles. Our staff can recommend the best fit when it comes to hair transformations or just a simple trim.

Skilled and Knowledgeable Stylists

Our stylists makes us the best hair salon in Louisville KY. Their expertise in various hair types, hair textures, and cutting-edge techniques ensure that guests receive top-notch service.

You Can Replicate Your Style At Home

By advising you on how to style your hair and what products to use, you'll be able to recreate your look once you leave our hair salon. Your hair service will always include a lesson, if needed, so you can look your best until your next appointment.

High Quality Hair Products

We are a Redken Elite salon, one of the few in Louisville, KY. The use of our high-quality hair care products contributes significantly to overall health and styling results. By using the best products, we achieve the best results!

Reputation and Professionalism

TRIM NuLu is one of the most well-known high-end hair salons in Louisville, KY. We have a reputation for quality and dedication to our guests. People know about us. We've been able to earn this reputation by consistence of quality and service over time.
A High-End Environment

TRIM NuLu is a clean and aesthetically pleasing salon space that makes clients feel comfortable and relaxed. You're getting your hair done, but you're also taking a much needed break.

Every Client is Special

Beyond skillful styling, our attentive and friendly staff are the reason for positive client experiences. Effective communication is key and that's why we take a client-centric approach so every guest feels valued.

Positive Client Reviews

Our positive customer reviews speak for themselves! Thousands of clients have entrusted us with their hair. Why shouldn't you be next?

The Latest Techniques

Regular training and a commitment to innovation ensure that clients receive the latest styles and treatments, keeping our hair salon at the forefront of the beauty industry in Louisville.

Online Booking

With our online booking system you can automate the way you schedule or reschedule hair appointments. No need to wait until the salon opens to book an appointment. Schedule your hair service online at any time of day or night.
Why Choose TRIM NuLu As Your New Louisville Hair Salon Home?
You should choose TRIM NuLu because of our expert staff, high-end products, modern techniques, high-end atmosphere, and your peace of mind. We are also one of the few hair salons in Kentucky that have achieved Redken Elite status.
Our Awards for Best Hair Salon in Louisville KY